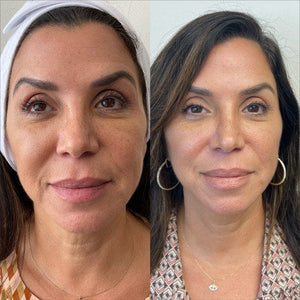 Sylfirm X is a medical aesthetic treatment designed to address various skin concerns, including pigmentation irregularities, redness, fine lines, and overall skin texture. It utilizes advanced radiofrequency technology to deliver controlled heat energy to the deeper layers of the skin. This stimulates collagen production, tightens the skin, and improves its overall appearance. Sylfirm X is often used for skin rejuvenation, particularly in areas like the face and neck, but can be used elsewhere.

Platelet-Rich Plasma (PRP): PRP therapy involves extracting a small amount of the patient's blood, processing it to concentrate the platelets, growth factors, and other beneficial components, and then applying this enriched plasma back into the skin. PRP is known for its regenerative properties, as it helps stimulate collagen production, enhance tissue repair, and promote a rejuvenated appearance. PRP is often used to improve skin texture, treat scars, and promote hair growth.

Combining Sylfirm X with PRP can offer synergistic benefits for certain skin concerns. When used together, these treatments can potentially enhance the results achieved from each procedure individually.

*Prepaid services are valid for up to 1 year after the purchase date.

$2,100 for 3 treatments of Sylfirm X with PRP. Special available with Carolina in Miami only. September Special.