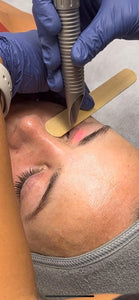 Fotona SmoothEye is a non-surgical laser treatment designed to address various signs of aging around the eyes. It's a part of the Fotona laser platform, which offers a range of aesthetic and medical treatments utilizing laser technology. SmoothEye specifically targets the delicate skin around the eyes to improve texture, tighten loose skin, and reduce the appearance of wrinkles and fine lines.

*Prepaid services are valid for up to 1 year after the purchase date.

$1,050 for 3 sessions of the Fotona SmoothEye with Carolina. September Special.