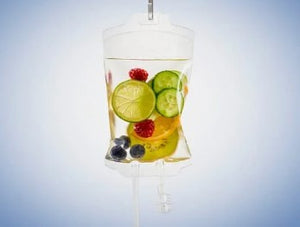 Vitamin IV hydration therapy, also known as intravenous (IV) vitamin therapy, is a medical procedure that delivers a combination of vitamins, minerals, and fluids directly into the bloodstream through an IV line. This treatment aims to rapidly rehydrate the body and provide essential nutrients, helping to improve overall health and wellness.

Vitamin IV hydration therapy can be beneficial for a wide range of individuals, including those with dehydration due to illness or excessive physical activity, individuals with nutrient deficiencies, athletes seeking enhanced performance and recovery, and individuals looking to support their overall health and wellness.

*Prepaid services are valid for up to 1 year after the purchase date.

Purchase 1 session of IV Vitamin Hydration for $150! All locations. November Special.